Our association supports various projects in India.
Supporting Peace Classes in India
Our association works in collaboration with various Indian associations. It supports their Peace Class projects and their realisation.
Collaboration with other associations and cooperatives
EGD asbl also supports the realisation of creative Peace workshops in India.
These are after-school activities for children aged 6 to 12. Children can then learn how to be at peace with themselves and others while having fun and developing their artistic talents.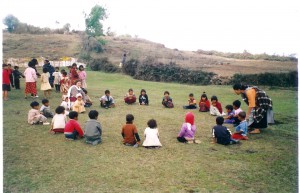 Support for young people and the creation of schools
The association also attaches importance to the creation of social, environmental and educational projects for peace and non-violence.
It gives young adults the opportunity to train, learn, conceive and grow in order to become active actors aiming at their emancipation and development. It helps these young people, especially young women, to build themselves up by contributing positively to their own life, their family and their community, while educating the younger generations through education for peace, values and support projects.
For example, the association supports the creation of schools in India for young local actors. These schools practise peace education with educational staff who take care to develop this pedagogy with the pupils.